I woke up late Wednesday night/early Thursday morning with a heaviness in my chest. It was hard to breath, I had a sharp pain on the left side of my chest through to my shoulder blade and then down my left arm, my heart was racing. I was sure I that I was having a heart attack, or was at least close to one. I took my pulse, 120 bpm, and rising.
I looked at the heart rate reading, and the clock. I took my pulse again, 127 bpm, it was getting harder to breath and the pain in my chest was getting worse. I looked back at the heart rate reading, and then back at the clock, it was shortly after 2:30am. I sat down on my bed, afraid to go to sleep, but not wanting to wake my husband and children. Decided to try some slow, deep, meditative breathing to slow my heart rate, something I have been doing, rather successfully, for the last six months, when I feel my heart rate increasing in-spite of my heart medication. However, this time it did not work, well, not very well anyways. I checked my pulse, down to 117 bpm, checked the clock, it was roughly 2:45am, I woke my husband. After him checking my pulse, twice, he convinced me it was time to go to the hospital and have them check me out.
We arrived at the hospital shortly after 3am and I was taken into triage immediately. There they took my pulse and blood pressure before hurrying off to grab an
electrocardiogram (EKG) machine. After my EKG I was taken to a room and put on more monitors, after a little while a doctor came and reevaluated my chest pain and gave me some nitroglycerin. Soon the pain went away and my heart rate decreased. Once my heart rate had stabilized, I was given yet another EKG, around 7am the doctor came back in and informed me that I was being admitted to the hospital. There were changes in my EKG from when I arrived to when my heart rate was stable, I would be seeing a cardiologist who was to determine the best course of action.
Once in my hospital room I was connected to a new set of machines for monitoring and told to wait, however, while waiting, my chest pain came back and required two doses of nitroglycerin to even begin to cut the pain. Around 11am the doctors finally allowed me to eat, but on a "heart healthy" diet, shortly after I ate the first cardiologist came in, he told me that there are three main tests that they do to people who display changes in their ekgs: an echocardiogram, an angiogram and a nuclear stress test. He went on to tell me that while an angiogram is the "gold standard" for diagnosing issues with the heart, he felt that without further imaging the benefits didn't outweigh the risks, that first he was going to have an echo done and a variation of the nuclear stress test called a lexiscan over a two day period, and then and only then would he believe that the risks of an angiogram outweighed the benefits "for someone of my age and fitness level".
Things went rather slowly from there, although some key events happened, I was started on
medication for my heart rate, blood pressure and a blood thinner, I
had my echocardiogram, and had the first day of my stress test, the "resting" portion of the test. On my way back from the test there was a significant lighting storm that knocked out power in the hospital scaring the poor transport nurse and other personnel in the hallway when it took almost a minute for the back up generators to kick on, and even then only minimal emergency lighting and elevators kicked on. When I got back to my room I was given a glowstick for a "light" in my room until power could be restored, meanwhile nurses were scrambling to plug necessary equipment into "red plugs" as those were the only outlets that were part of the system now on the backup generators.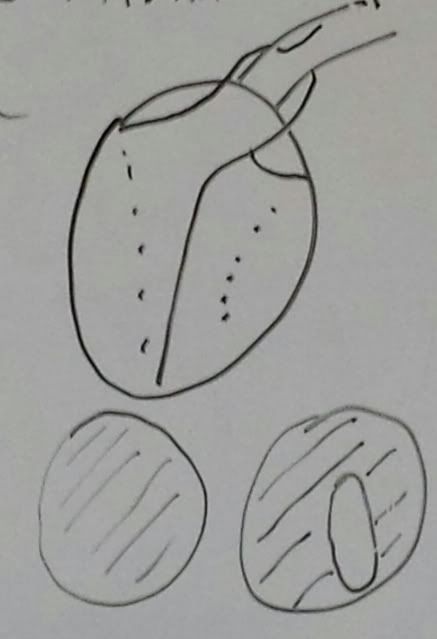 The next morning I was taken in for the second portion of my stress test, where my cardiologist exclaimed to the technician running the test "you made her have the same t wave inversions that we saw on the EKG when she arrived!" Once the test was finished I was taken back to my room and asked to wait, again. Several hours passed before the cardiologist returned, and when he did we was accompanied by another cardiologist. They explained how the arteries on the heart worked (above, top) and supplied blood and that during my resting test the blood flow in my heart was normal (above, left), however during the "stress" portion of my stress test the lower back portion of my heart displayed reduced blood flow (above, right). These findings coupled with now two abnormal EKGs warranted an angiogram to be done in the morning. They went on to describe the procedure and explain that if possible they would fix any abnormalities they found at that time instead of doing a secondary procedure, however, since the area of concern was at a hard to reach area, there was a chance that, depending on what was found, open heart surgery might have to be done.
I was transferred from the regular cardiac unit to the cardiac ICU for further monitoring. Once there I was put on a nitroglycerin drip and a heprin drip (a blood thinner), later they added in a saline solution, and an extra iv site. Morning came and the doctors did my angiogram without needing to do any extra procedures, my arteries are clear, I have no plaque buildups or blockages.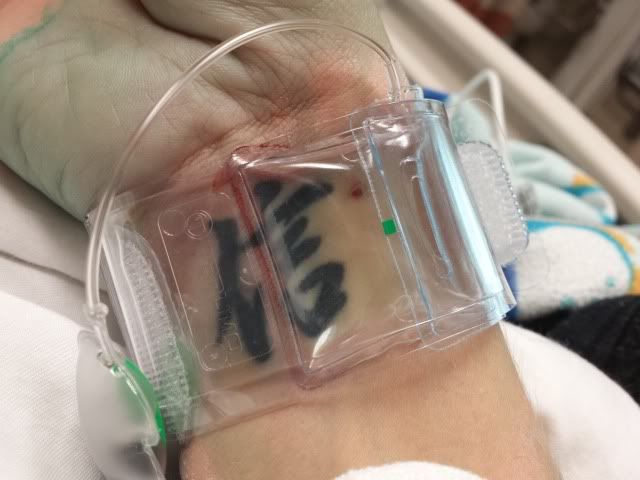 After the procedure I was returned to my room with a radial compression bracelet, the nurses were to remove 2cc's (2ml) of air every 20 minutes as the artery slowly closed its self. However, my body does not work that way and the first time the nurses attempted to remove air I started "oozing", which is of course doctors speak for, I bled all over a pillow. If you wish to see what the bracelet looked like after the first attempt, click here. After my oozing event the nurses decided to wait an hour and then continue to reduce the air in the bracelet at a rate of 1cc every 15-30 minutes, needless to say, it took forever.
Eventually the doctor returned and told me that they aren't quite sure exactly what is going on with my heart, that it could be a number of things, one of which was a coronary artery spasm, and that more tests are needed to make a diagnosis. I see my new cardiologist again on Thursday.
Here's my official "hospital summary" word-for-word:
REASON FOR HOSPITALIZATION: The patient is a 29-year-old, Caucasian woman who was admitted for chest pain with abnormal electrocardiogram (EKG) changes. For details see dictated history and physical exam report.
HOSPITAL COURSE: The patient was admitted to the hospital and started on acute coronary syndrome protocol. Her potassium level was low at 3.4, which was replaced back to normal. Due to abnormal EKG changes at the time of admission, nuclear stress test was obtained, which showed reversible ischemia inferiorly. Cardiology was then consulted and coronary angiogram was performed on 09/07/13, which showed normal coronary arteries. Her chest pains might be due to coronary vasospasm or endothelial dysfunction. Her echocardiogram showed ejection fraction 60-65%, no regional wall motion abnormalities noted, the left ventricle normal in size, trace tricuspid regurgitation. No pericardial effusion. Her lipid panel showed total cholesterol 177, triglycerides 70, high-density lipoprotein (HDL) 63, low-density lipoprotein (LDL) 100.
Troponin negative. Due to her low-normal blood pressures neither nitrates nor calcium channel blocker was started at the time of discharge.